New online resource to improve road safety for Aboriginal people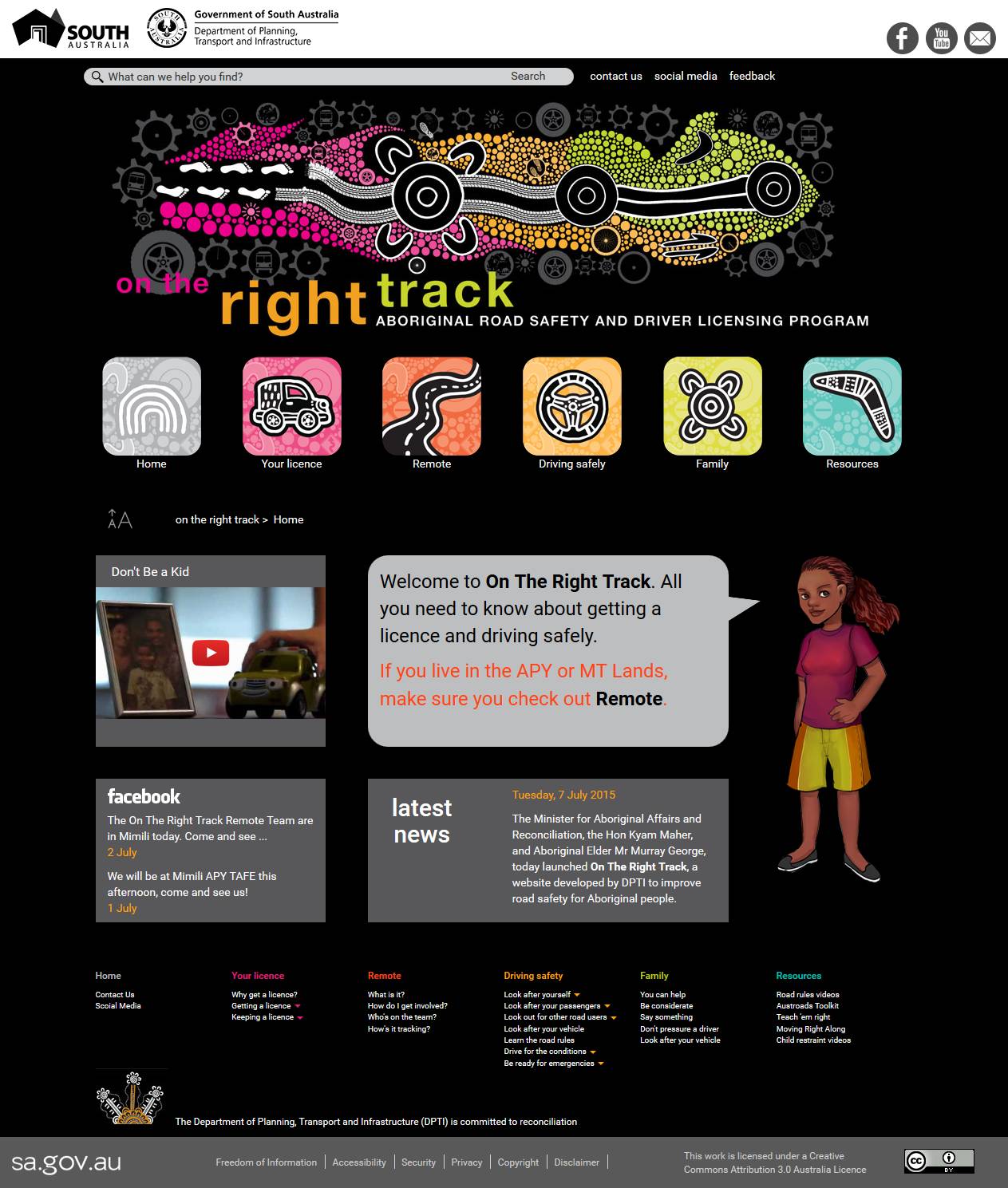 Hippo Creative help The Department of Planning, Transport and Infrastructure (DPTI) to develop a new website, On the Right Track, has been launched to provide culturally appropriate information for Aboriginal people about road safety and driver licensing.
South Australia is the first jurisdiction to provide a website designed specifically for Aboriginal people around road safety and driver licensing.
Aboriginal and Torres Strait Islander people make up an estimated two per cent of the State's population but account for four per cent of the total number of South Australian residents killed in road crashes in Australia.
The On the Right Track website aligns with the Road Safety Action Plan 2013-2016 in providing support to increase the capacity of our Aboriginal communities to gain their driver's licence as well as supporting them to become safer drivers and passengers.
www.dpti.sa.gov.au/ontherighttrack attempts to connect with Aboriginal people by acknowledging their cultural needs through visuals and, where possible, familiar language to convey important messages.
The website promotes key themes such as family, love and care for community. It takes into account that for some Aboriginal people, their traditional language is their first language. The website has several resources available in the Pitjantjatjara language, with the aim to make more resources available in this language, and other South Australian Aboriginal languages in the future.
A Facebook page has also been launched to provide information and alerts about driver licensing services for people in remote communities within the APY and Maralinga Tjarutja Lands (www.facebook.com/OntheRightTrackRemote).
In addition to the website, today also marks the release of a series of 3D animated videos about the use of child restraints.
Aboriginal Affairs and Reconciliation Minister Kyam Maher and Aboriginal Elder Mr Murray George launched the website at an event at Grenfell Street on Tuesday 7 July.