Wall St rises on tech sector as energy stocks fall
original article from: http://www.abc.net.au/news/2015-05-08/wall-st-rises-on-tech-sector-as-energy-stocks-fall/6454346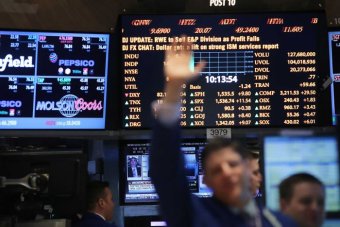 Wall Street rose modestly overnight, with a healthy session for technology stocks offset by lingering concerns about yesterday's comments by the head of the US Federal Reserve.
The S&P 500 added 8 points, or nearly 0.4 per cent, to 2,088.
Blue chip stocks on the Dow Jones Industrial Average outperformed the broader market, closing up almost 0.5 per cent (82 points) at 17,924.
Fed chair Janet Yellen's commentary yesterday that stock prices are quite high continued to inspire caution.
Energy stocks were the market's biggest losers as West Texas crude oil backtracked, falling 3.2 per cent to $US58.94 a barrel.
The tech sector was a bright spot though, with Chinese e-commerce company Alibaba leading the way with a gain of 7.5 per cent after reporting strong earnings growth.
There was also positive economic data, showing US claims for unemployment benefits are holding at a more than decade low.
It was a mixed bag for markets across the Atlantic; as a result the Euro Stoxx index closed nearly flat, losing 2 points to 3,556.
France's CAC 40 fell 0.3 per cent (14 points) to 4,967.
The FTSE 100 in London dipped 0.7 per cent (47 points) to 6,887, with investors worried by the uncertain outcome of the UK election.
The German DAX added 0.5 per cent (58 points) to 11,408 though, as the Greek foreign minister insisted the country will meet a billion euro debt repayment due next week.
Futures trade suggests the Australian share market will not bounce back from its recent heavy losses this morning; the ASX SPI 200 was 8 points, or 0.1 per cent lower, at 5,609 at 7:30am (AEST).
The greenback strengthened overnight and, as a result, the Australian dollar fell back to 79 US cents by 7:30am.
At the same time the local currency was buying 70.2 euro cents, 51.3 British pence and 94.7 Japanese yen.
Iron ore slipped back a fraction to $US60 a tonne and spot gold was at $US1,184 an ounce.